Guys, guys, guys! If you're single and your want to meet an incredible chick—get your ass into a gay bar!
Here are 5 good things you need to know before you start hanging out with "the boys." Here ya go…
1. Cool girls have Gay Guy (GG) friends. Any straight girl who can bag a GG as a friend is probably a girl worth dating. She's showing you a lot just by having gay friends.  She's got enough going for her that GG's want to be around her — she's probably really funny, dresses well for her body type and is worldly enough to appreciate all that gay friends have to offer.  She's showing you something right off the bat: she's not a bigoted homophobe. You want to date women who aren't harsh and black and white about things; they will make better lovers and mothers for your future kids.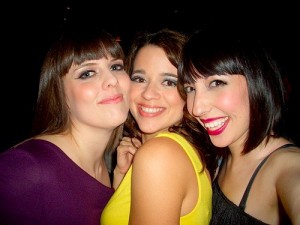 2. GG's bring their straight girl friends to the gay bars with them and the girls travel in packs! You can walk into almost any gay bar — the ones that primarily have younger men and dancing in them — and you'll find a slew of  available women. Women have a blast in gay bars — and they let their guards down while they are there.  No one is pawing at them; they can dance with just about anyone they want; guys buy them drinks without expecting something in return and they keep hearing that they're "fabulous" from attractive men they don't even know!
3. Straight men can learn great life-lessons by going to gay bars! This is your time to learn compassion for what women go through—and this will serve you all of your life. Gay men really aren't any different than straight men when it comes to trying to getting laid. You're going to get what a woman feels when she walks into a bar. Don't worry, no one's going to rape you. You are going to feel what it feels like to be treated like a piece of meat though. Once the GG's find out you're straight, they'll pretty much leave you alone. They may flirt and buy you a beer, but there's a good chance they'll introduce you to their girlfriends too.  GG's love having secure straight men in the bar.  That said, don't be disappointed if no one notices you…
4. You may not get any attention at all. OMG! Did I just break your heart?  Straight men, I know that's hard to hear, but not every gay guy wants to take a hit off of you! Don't make up a fantasy before you get there that the men will be all over you, because there's a good chance that they won't be.  On the flip side, if you're hit on in the bar, take it as a compliment!  You should be able to graciously handle anything that comes your way and don't forget that you're the one who walked into a gay bar. If you can't handle being hit on by a guy, you have no business going into a gay bar and the women in there won't like you anyway.  If you are cool with being in a gay bar, the women will find you hotter. There's nothing more disgusting than a man who tries to make himself "macho" by degrading anyone, on the flip side, there's nothing more attractive than a guy who accepts everyone for who they are. True story: The first time I went into a gay bar, no one paid attention!  I-was-wrecked!
5. Find a GG to become your best friend. Just like every girl needs a GG as a friend, straight guys need gay men in their lives too. Most GG's will teach a lot of things you might not know; having GG's (and lesbians too) will certainly make you a better father if you have kids who don't turn out "just like you." If you're going into the bar, make it an adventure!  See how many guys you can talk to in the bar. GG's generally have lots of friends and tend to have very big social networks. They know a lot of women who aren't in the bar. If you're a decent guy, the GG's will take care of you. Use them as a resource, but most of all, keep them as your friends.
Final Note: One of my best friends met her HOT husband in a gay bar.  He's the best!  They've been married for over 10 years.  It happens.  Who knew?